Angola
Country Profile
Angola is a country in south west Africa
Borders the countries of Namibia, Zambia, and Congo. Angola also borders the Atlantic Ocean off the west coast and with a west coast along the Atlantic Ocean.
Angola has plenty of natural resources; the most common being oil and diamonds.
Capital city is Luanda, which is also the largest city
Official language is Portuguese
Total area - 1,246,700 km²
Population - 10,978,552 (ranked 71 in the world for size)
Angola is a former portuguese colony
Angola is divided into 18 provinces: 1 Bengo, Benguela, Bia, Cabinda, Cuando Cubango, Cuanza Norte, Cuanza Sul, Cunene, Huambo, Huila, Luanda, Lunda Norte, Lunda Sul, Malanje, Moxico, Namibe, Uige, Zaire
Angola has three main ethnic groups, each speaking a Bantu language: Ovimbundu 37%, Kimbundu 25%, and Bakongo 13%.
The great majority of the inhabitants are of Bantu stock with some admixture in the Congo district.
In the coastal towns the majority of the white inhabitants are Portuguese.
The Mushi-Kongo and other divisions of the Ba-Kongo retain curious traces of the Christianity professed by them in the 16th and 17th centuries and possibly later.
The People
The people of Angola are steadfast.
Angolans have a very deep understanding of patience, and sidestep blaming the difficulties the country faces on the fact that there was war.
In reality, Angolans act as if there was no war despite the fact it is deep rooted in every Angolan.
The heart and soul of every Angolan is music, it can be heard anywhere and there is always a good excuse for a party.
The country has a eclectic range of music, chiefly Kuduro, Kizomba, Semba, and Tarrachinha, the latter being more sensual than all the others.
Angolans in all , is safe to say are fun and loving people with a thirst for more of what life has to offer.
Climate
Akin to the rest of tropical Africa, Angola experiences distinct, alternating rainy and dry seasons.
The cool Benguela Current permeates the coastal strip, ensuing in a climate comparable to coastal Baja California.
It is semi arid in the South and along the coast to Luanda. The rainy season is short lasting from February to April.
The summers tend to be hot and dry, while winters are mild.
The northern part is blessed with a cool, dry season (May to October) and a hot, rainy season (November to April). In the interior, above 3,300 ft (1,006 m), the temperature and rainfall decrease.
The interior highlands have a mild climate with a rainy season from November through April followed by a cool dry season from May to October.
The heaviest rainfall occurs in April, and is accompanied by violent storms. The far north and Cabinda enjoy rain throughout much of the year.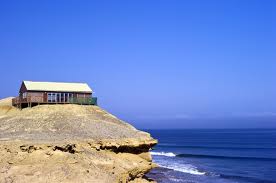 Namibia Holidays - An Amazing Experience