#Travel Friendly Airbnb and Guest House - Vacationing in #Accra and looking for an Airbnb to stay? We Got You! Vacation rentals in Greater Accra Region Whatsapp +1 747 4779581 @Charlesfrize
This is important because it relates to Short stay apartments in Accra #AccraGhana #AburibotanicalGardens #Senchi #TravelTours #KakumNationalPark #KwameNkrumahMemorialPark #WliWaterfalls #ElminaCastle #VisitGhana #AccraAccommodation #Africandiaspora #airbnb #Ghana #Dodowa #Oyibi #ValleyviewUniversity #Adenta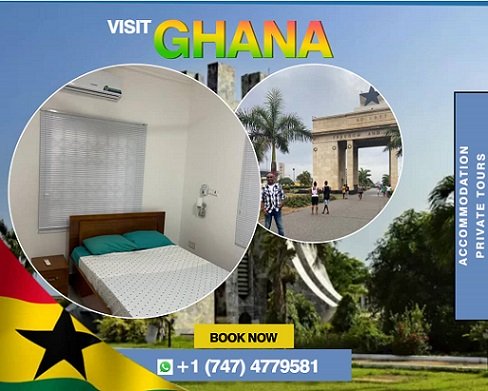 Avila Spain
Spanish Fortified City In Castile And León
Top Things To Do When You Visit Madrid
Avila is sometimes called the Town of Stones and Saints, and lays claim that it is one of the towns with the highest number of Romanesque and Gothic churches per capita in Spain. It boasts prominent and complete medieval town walls, built in the Romanesque style.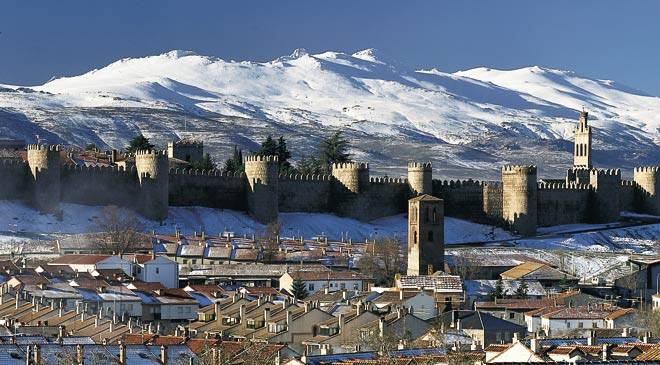 Avila, Spain Madrid has so much going on it is often hard to drag yourself away from it. If indeed, you eventually need a break from Madrid, a day trip to Avila, is definitely worth it. In fact, a visit to Avila is a must if you visit Spain. The town is so popular, there are over 20 trains a day from Madrid. Avila is in the south of Old Castile, part of the Castile and Leon autonomous district. The city was originally known for Teresa of Avila, a Roman Catholic mystic. The cathedral in the city is also considered a masterpiece, and while this in no doubt will be fascinating to you, the real attraction of Avilla is the defensive fortification. 
Do you find castles intriguing? You are going to love Avila. The town is home to the second largest defensive walls in the world. Known as Las Murallas, the walls were built in the eleventh century. They are a couple miles long and average 40 feet in height. The walls are partitioned by over 80 towers that reach as high as 65 feet, the equivalent of a six-story building. There are nine gates allowing you to enter and exit the town. All in all, the Avila Walls are a site to be seen. The work was started in 1090 but most of the defensive wall appears to have been rebuilt in the 12th century. The enclosed area is an irregular rectangle of 31 hectares with a perimeter of some 2,516 meters, including 88 semicircular towers.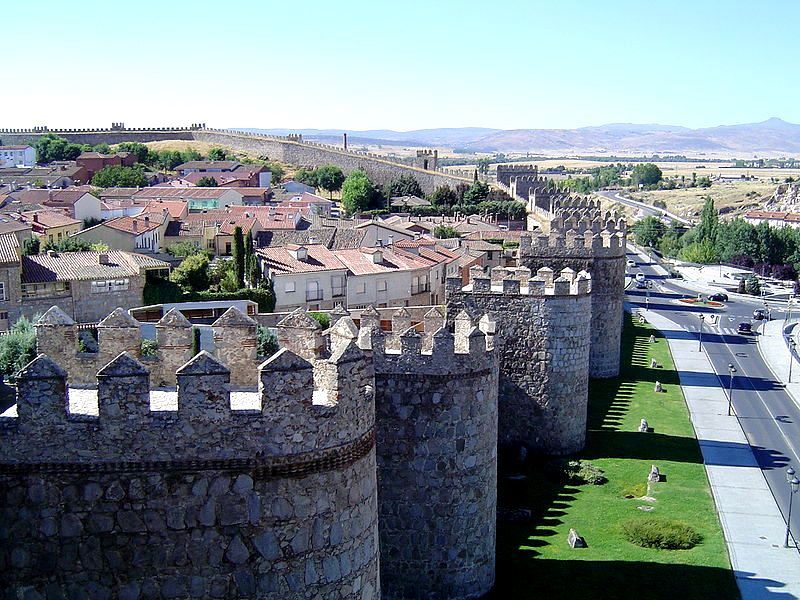 The amazing thing about the walls is their condition. They are in a near perfect state. If you did not know better, you would swear they were built recently. Happily, you can navigate up and down the towers and walk across the top of the walls. Looking out over the area surrounding Avila, you get a definite feel for what it must have been like for a soldier to defend the city.

Climate Ávila's position results in a temperate Mediterranean climate, with warm summers and chilly winters with snowfalls, bordering on a cold semi-arid climate. The hottest month, July, has an average temperature of 20.6 °C (69 °F), and the coldest month, January, has an average of 3.0 °C (37 °F). The average annual precipitation is 416 mm (16.38 in). Annual rainfall is low compared to surrounding areas, implying that it lies in a rain shadow. The Adaja is dry for several months of the year and the town has historically had water supply problems. Ávila has the coldest winter low temperatures of the Spanish provincial capital cities, thanks to its high altitude (1,132 metres (3,714 ft) above sea level). Keep in mind Avila is at a high elevation and can be cold in the winter and blazing hot in the summer.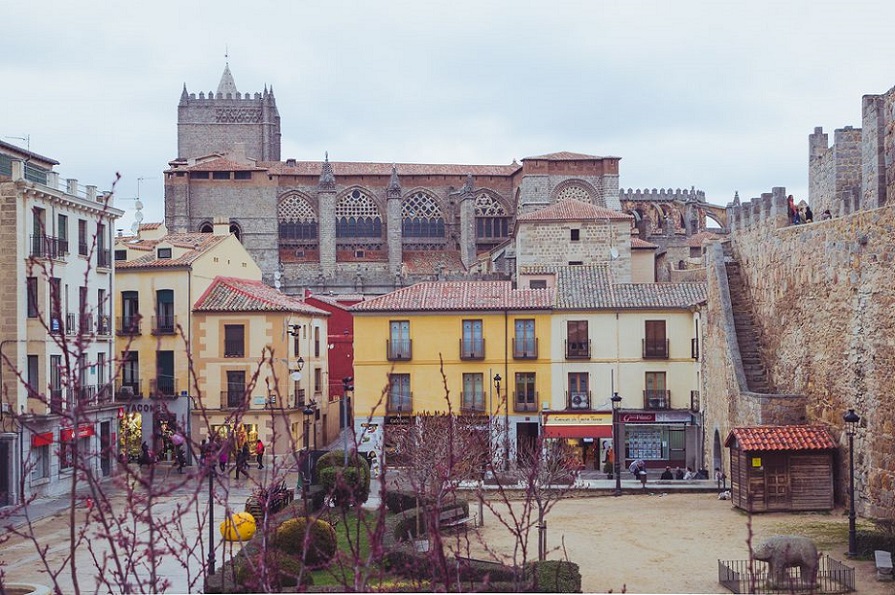 Getting to Avila From Madrid, Segovia and Salamanca
Avila has the most beautiful city walls of anywhere in Spain and is an essential stop if you're visiting central Spain. However, there isn't so much to do there so trying to fill a whole day in Avila would be tough. Bearing this in mind, we suggest visiting Avila in one of the following ways:

As a stop en route from Madrid to Salamanca or Segovia

As a half-day trip from Madrid, Salamanca or Segovia
As a combined day trip to Avila and Segovia from Madrid
As a combined day trip to Avila and Salamanca from Madrid
Visiting Avila and Segovia as a Combined Trip from Madrid
The problem with visiting two cities in one day is that you need to get your logistics spot on. To make all of your connections can make the whole trip more hassle than it's worth, in which case a guided tour can be a perfect way to take the stress out of joining all the dots. If making this day trip by yourself, you'll want to do the journey as follows:
Madrid to Avila by train: Trains begin early in the morning.
Avila to Segovia by bus just after lunch: Book bus tickets.
Segovia to Madrid in the evening: The last train is at just after 10 pm. You can, of course, also stay on in Segovia. The city deserves more than half a day.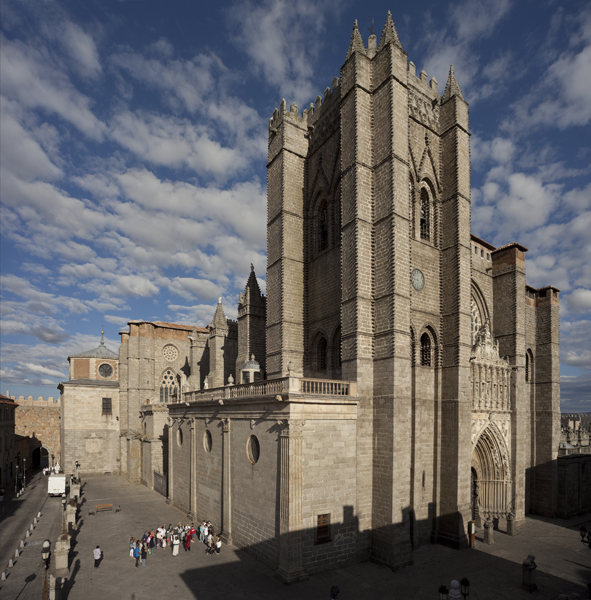 Visiting Avila and Salamanca as a Combined Day Trip from Madrid
Again, squeezing both into the same day trip can be logistically difficult, so a guided tour is your best bet here. In fact, we wouldn't recommend doing this one at all by yourself, as the train and bus from Salamanca to Madrid usually take around two-and-a-half hours (though there is an infrequent 90-minute train). To make this trip by yourself, you should take the train in all cases, first traveling from Madrid to Avila, then to Salamanca and then - if possible - staying the night in Salamanca before returning to Madrid the following day. There are frequent trains for all routes.
Madrid to Avila by Train, Bus, and Car
The train from Avila to Madrid takes about 1h30 and costs about 10 euros. There are frequent trains throughout the day. Trains from Madrid to Avila depart from Chamartin train station. There are regular buses throughout the day between Madrid and Avila. The journey takes 1h30 and costs about 8 euros. The train is much more convenient and is similarly priced. Book the bus at La Sepulvedana. By car, the 111km journey takes about 1h15. Take the A-6 AP-51 to travel from Madrid to Avila by car. Note that AP roads in Spain are toll roads. However, if going from Segovia to Salamanca, which is an awkward journey by public transport, you should go from Madrid to Segovia first and then go to Salamanca via Avila.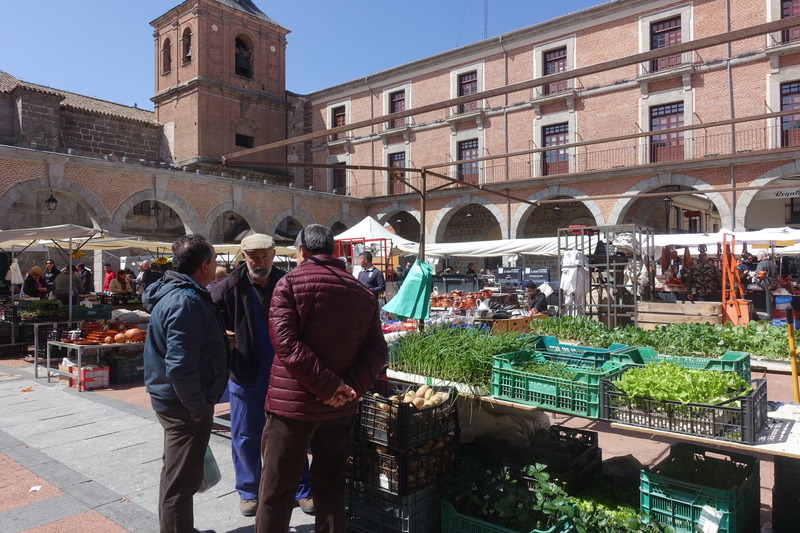 Avila to Segovia by Bus and Car There are several buses per day from Avila to Segovia. The journey takes one hour and costs a little over six euros. Book your tickets with Avanzabus. The 70km drive from Avila to Segovia takes around 45 minutes, via the AP-51. Note: this is a toll road. There is no train from Avila to Segovia.
Avila to Salamanca by Train, Bus, and Car The train from Avila to Salamanca takes around an hour. There are trains throughout the day. No need to book ahead unless you like to have these things all done in advance. The bus takes one-and-a-half hours and costs around 8 euros. You can book from Avanzabus. The drive from Avila to Salamanca takes about an hour, via the A-50.
History Of Avila In pre-Roman times (5th century BC), Ávila was inhabited by the Vettones, who called it Obila ("High Mountain") and built one of their strongest fortresses here. There are Bronze Age stone statues of boars (known as verracio) nearby.
Gate Alcazar Ávila may have been the ancient town known as Abula, mentioned by Ptolemy in his Geographia as being located in the Iberian region of Bastetania. Abula is mentioned as one of the first towns in Hispania that was converted to Christianity by Secundus of Abula (San Segundo), however, Abula may alternatively have been the town of Abla.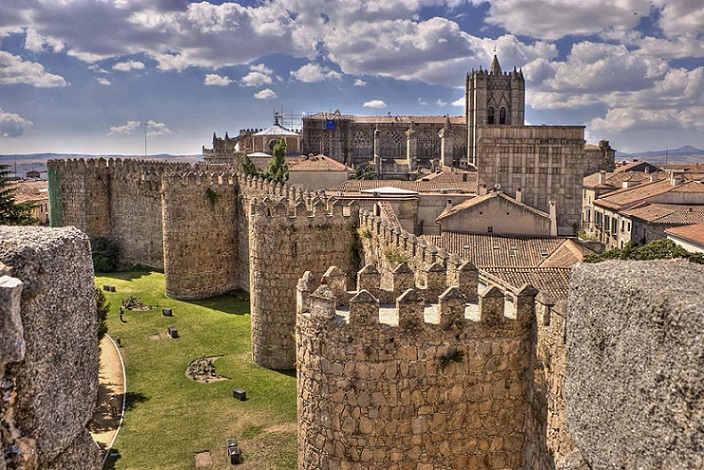 After the conquest by ancient Rome, the town was called Abila or Abela. The plan of the town remains typically Roman; rectangular in shape, with its two main streets (cardo and decumanus) intersecting at a forum in the centre. Roman remains that are embedded in town walls at the eastern and southern entrances (now the Alcazar and Rastro Gates) appear to have been ashlar altar stones. By tradition, in the 1st century, Secundus, having travelled via the Roman province of Hispania Baetica, brought the Gospel to Avila, and was made its first bishop.
After the fall of the Western Roman Empire, Ávila became a stronghold of the Visigoths. Conquered by the Moors (Berbers/Arabs) (who called it Ābila, آبلة), it was repeatedly attacked by the northern Iberian Christian kingdoms, becoming a virtually uninhabited no man's land. It was repopulated about 1088 following the definitive reconquest of the area by Raymond of Burgundy, son in law of Alfonso VI of León and Castile. He employed two foreigners, Casandro Romano and Florin de Pituenga, to construct a stone frontier town and creating the walls that still stand. The city achieved a period of prosperity under the Catholic Monarchs in the early 16th century, and their successors Charles V and Philip II of Spain, but began a long decline during the 17th century, reducing to just 4,000 inhabitants.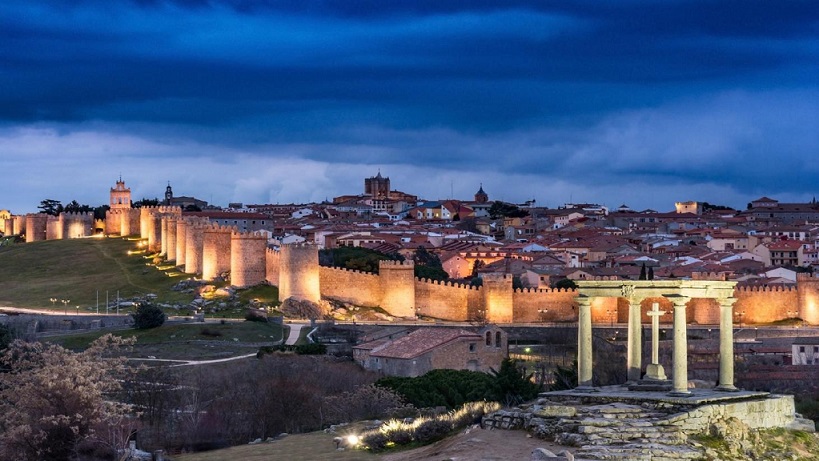 In the 19th century, there was some population growth with the construction of the railway line from Madrid to the French border at Irun and an important junction near the town. In 1936, at the outbreak of the Spanish Civil War, the town quickly became part of the area occupied by rebel troops. Growth continued slowly again under Franco, but Ávila has not had a major influence in Spanish society in recent history, apart from the nurturing of politicians such as Adolfo Suárez, the first democratically elected Spanish prime minister post-Franco, and José María Aznar, prime minister from 1996 to 2004, who represented Ávila in the Cortes but was not from the town. Enjoy Spain.
San Sebastian Tourist Attractions
Enjoy Festival Sonar near Barcelona
Explore Alicante And Its Beautiful Coastline